Provided to you Exclusively by THE CANTO TEAM

For the week of Dec 21, 2009 | Vol. 7, Issue 51
Ted Canto
Senior Mortgage Consultant
Academy Mortgage
Office: 480-344-3671
Cell: 480-650-8602
Fax: 480-374-6958
E-Mail: ted@tedcanto.com
Website: www.tedcanto.com

Going the extra mile is my standard, not the exception
Last Week in Review

---
"ALL GOOD THINGS MUST COME TO AN END..." Or so the popular saying goes. And last week, the Fed reiterated once again that their Mortgage Backed Security (MBS) purchase program...the program that has helped keep home loan rates low for much of the last year...will end on March 31, 2010 as previously stated. Here's the lowdown on what this means, and all the latest news impacting home loan rates and the markets.
Last Wednesday during their regularly scheduled meeting of the Federal Open Market Committee, the Federal Reserve kept the Fed Funds Rate unchanged. But history has shown that when the Fed has left rates too low for an extended period of time, there is a price to be paid, via higher inflation. Yet if the accommodation is removed too early, it can derail an already fragile recovery. The Fed continues to walk this tightrope, trying to get it "just right."
Along with this decision, the Fed emphasized and reminded that their MBS purchase program will still end on their already revised deadline date of March 31, 2010. Why is this significant? Let's look at the numbers from last week to get an idea. The Fed purchased $16B in MBS in the latest week bringing the year-to-date total to $1.087T. This means there is $163B left to purchase before March 31, which in turn means the Fed will purchase about $11.5B on average each week through the end of the buying program. This is less than half of what the Fed was buying regularly throughout 2009 and a 1/3 less than what the Fed has been buying in recent weeks.
So why does this point to higher rates around the corner? When there is lots of supply and diminishing demand, the price of that item will subsequently go down - it's Economics 101. So, when Bond prices start to decrease from the diminishing demand of the Fed's purchases, home loan rates will naturally be likely to increase. Give me a call if you want to see how you can benefit from the current low rate environment...before it becomes too late.
In other news, there was mixed inflation data last week, as the Producer Price Index (which measures wholesale inflation) came in significantly higher than expected. However, the Consumer Price Index was reported in line with expectations, signaling that inflation remains low - at least for now. Inflation will ultimately creep back into the economy - and as the arch-enemy of Bonds and MBS - will also contribute to rising interest rates.
Housing Starts for November were in line with estimates and, as you can see in the chart below, the housing sector seems to have stabilized after bottoming out at 458,000 Housing Starts in April.
-----------------------
Chart: Housing Starts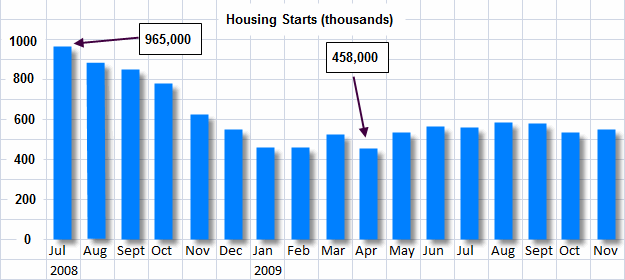 Meanwhile Building Permits, which are a leading indicator of housing construction, reached the highest level seen in the past year. This is encouraging, and the extension of the Home Buyer Tax Credit should provide an added boost for home sales over the next few months.
Bonds and rates were able to improve in the middle of the week and as a result, Bonds and rates ended the week about where they began.
THE HOLIDAY SEASON WILL EVENTUALLY COME TO AN END, BUT YOUR HOLIDAY MEMORIES DON'T HAVE TO! CHECK OUT THIS WEEK'S MORTGAGE MARKET VIEW FOR GREAT TIPS TO HELP YOU TAKE GREAT HOLIDAY PICTURES.
Forecast for the Week

---
The markets will enter holiday mode later this week, with both the Stock and Bond markets closing early on Thursday and remaining closed all day Friday in observance of the Christmas holiday, but not before several important reports are released.
First, we'll get a read on the housing market with Tuesday's Existing Home Sales Report and Wednesday's New Home Sales Report. Tuesday also brings a read on the economy with the broadest measure of economic activity via the Gross Domestic Product Report.
There is still more news on Wednesday with the Fed's favorite gauge of inflation, the Core Personal Consumption Expenditure (PCE) Index, found within the Personal Income Report. With last week's mixed inflation news, this will be an especially important report to watch.
And Thursday could bring some big news just before the markets close by way of the Durable Goods Report, which gives us an update on consumer and business buying behavior on big ticket items that last for an extended period of time. A look at the job market will come with the Initial Jobless Claims Report. Last week's Initial Jobless Claims and Continuing Claims numbers were higher than expected, showing that the labor market is still struggling.
Remember: Weak economic news normally causes money to flow out of Stocks and into Bonds, helping Bonds and home loan rates improve, while strong economic news normally has the opposite result.
As you can see in the chart below, Bonds and rates were able to regain some ground last week. I'll be watching to see if this continues.
Chart: Fannie Mae 4.5% Mortgage Bond (Friday Dec 18, 2009)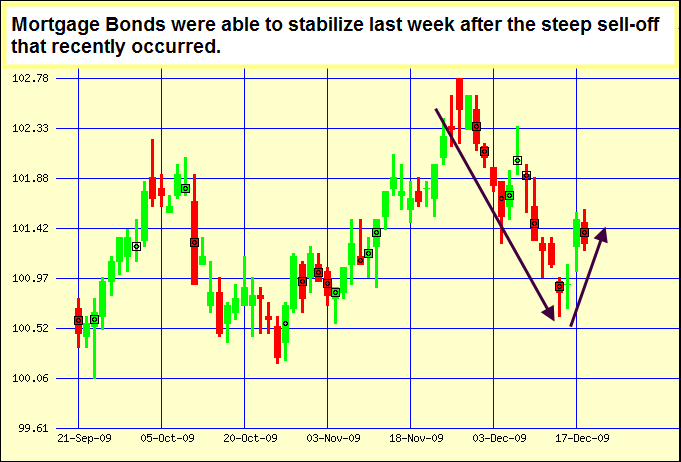 The Mortgage Market View...

---
7 Tips for Taking Perfect Holiday Pictures
Over the next week, families and friends from across the country will come together to reminisce, reconnect, and enjoy the warmth of the holiday season. When it's over, only two things will remain: the memories of those celebrations and the photographs that bring those memories to life.
Unfortunately, some holiday photos don't turn out quite as vivid or emotional as the moments they depict. But with the 7 simple tips below, you can help eliminate the disappointment of a photo gone wrong.
Look 'em in the eye. One of the best ways to capture the true spirit and emotion of holiday moments is to zero in on the eyes of family and friends. That means holding the camera at eye level and focusing in tightly on the twinkle in their eyes and smiles on their faces. And, when taking pictures of children or even the family pet, don't forget to lower yourself to their level.
Brighten up the holidays...even when you're outside. One of the most important aspects to consider in any picture is the lighting. Harsh overhead lights can cast odd shadows on a person's face. And bright lights can make a person's wrinkles or subtle flaws stand out more in the picture than they do in real life. To help reduce these negative illusions, try using as much natural light as possible. If you're indoors, ask your friends to move closer to the natural light coming in through a window and turn off your flash to capture the vibrant colors better.
If you're outside, remember that the soft, warm light that occurs during the early morning, late afternoon, and on cloudy days is better than the overpowering mid-day sun. If you must shoot during mid-day, use your flash to help brighten faces and eliminate those unpleasant shadows from the sun.
Keep your distance. When you do need a flash, make sure that you know the optimal distance that your camera's flash can travel. Too often, people make the mistake of standing out of range, which can be the same as using no flash at all. For most cameras, the maximum distance between you and your subject should be approximately 15 feet (or five big steps away). But, just to be safe, you should check your camera's manual or try to stay within 10 feet to make sure your photographs don't turn out dark and dreary.
Don't center every image. Often, centering the subject can result in a boring or lackluster photo. Instead, try to shift your subject slightly to the left or the right. The empty space that is left in the frame will help draw the eye to the subject and add a quality of balance and interest that a centered photo cannot duplicate.
Don't just take photographs...direct them. Even if you're just taking a photo of a few people, take a moment to move them around to create interest and fill the frame. Also, don't hesitate to move distracting objects out of the background or to move the subjects to another part of the room altogether.
Get the red out. Although some cameras come with red-eye reduction features, the best way to eliminate this problem is to stop it before it starts. To do that, have your subject look toward the camera, but not directly at the lens or the flash. So, before you snap the picture, take a moment to say "look here" and point out a spot just below your camera for them to focus on.
Snap the picture early to capture the action. Most cameras today include a variety of features that are automatically processed before a picture is taken. That means your camera takes an extra second to process the photo and adjust its settings accordingly. So, try to snap the shot a half-a-second early.
With these tips and a little practice, your photographs will capture the vivid colors, emotions, and joy of this holiday season in a way that brings those memories to life every time you look at them.
The Week's Economic Indicator Calendar

---
Remember, as a general rule, weaker than expected economic data is good for rates, while positive data causes rates to rise.
Economic Calendar for the Week of December 21 - December 25
| | | | | | | | |
| --- | --- | --- | --- | --- | --- | --- | --- |
| Date | ET | Economic Report | For | Estimate | Actual | Prior | Impact |
| Tue. December 22 | 08:30 | Gross Domestic Product (GDP) | Q3 | 2.7% | | 2.8% | Moderate |
| Tue. December 22 | 10:00 | Existing Home Sales | Nov | 6.30M | | 6.10M | Moderate |
| Wed. December 23 | 10:30 | Crude Inventories | 12/18 | NA | | NA | Moderate |
| Wed. December 23 | 10:00 | New Home Sales | Nov | 440K | | 430K | Moderate |
| Wed. December 23 | 10:00 | Consumer Sentiment Index (UoM) | Dec | 73.9 | | 73.4 | Moderate |
| Wed. December 23 | 08:30 | Personal Consumption Expenditures and Core PCE | YOY | NA | | 1.4% | HIGH |
| Wed. December 23 | 08:30 | Personal Consumption Expenditures and Core PCE | Nov | 0.1% | | 0.2% | HIGH |
| Wed. December 23 | 08:30 | Personal Spending | Nov | 0.7% | | 0.7% | Moderate |
| Wed. December 23 | 08:30 | Personal Income | Nov | 0.5% | | 0.2% | Moderate |
| Thu. December 24 | 08:30 | Jobless Claims (Initial) | 12/19 | NA | | 480K | Moderate |
| Thu. December 24 | 08:30 | Durable Goods Orders | Nov | 0.4% | | -0.6% | Moderate |
It is important that you know that I always have time for you, your friends & family members & that you would like to refer my services.
The material contained in this newsletter is provided by a third party to real estate, financial services and other professionals only for their use and the use of their clients. The material provided is for informational and educational purposes only and should not be construed as investment and/or mortgage advice. Although the material is deemed to be accurate and reliable, we do not make any representations as to its accuracy or completeness and as a result, there is no guarantee it is not without errors.
As your trusted advisor, I am sending you the MMG WEEKLY because I am committed to keeping you updated on the economic events that impact interest rates and how they may affect you.
In the unlikely event that you no longer wish to receive these valuable market updates, please USE THIS LINK or email: ted@tedcanto.com
If you prefer to send your removal request by mail the address is:
Ted Canto
5304 E. Southern Ave.
Suite 101
Mesa, AZ 85206
Mortgage Success Source, LLC is the copyright owner or licensee of the content and/or information in this email, unless otherwise indicated. Mortgage Success Source, LLC does not grant to you a license to any content, features or materials in this email. You may not distribute, download, or save a copy of any of the content or screens except as otherwise provided in our Terms and Conditions of Membership, for any purpose.