Provided to you Exclusively by THE CANTO TEAM
For the week of Feb 08, 2010 | Vol. 8, Issue 6
Ted Canto
Senior Mortgage Consultant
Academy Mortgage
Office: 480-344-3671
Cell: 480-650-8602
Fax: 480-374-6958
E-Mail: ted@tedcanto.com
Website: www.tedcanto.com
Going the extra mile is my standard, not the exception
Last Week in Review

---
"BOTH OPTIMISTS AND PESSIMISTS CONTRIBUTE TO OUR SOCIETY. THE OPTIMIST INVENTS THE AIRPLANE, AND THE PESSIMIST - THE PARACHUTE." G.B. Stern. And last week's Jobs Report had something for both optimists and pessimists, as the numbers were both good and bad...depending on which survey you looked at, and what numbers you focused on.
First, the headline numbers: The Labor Department reported that there were 20,000 jobs lost in January, which was worse than expectations of 15,000 jobs gained. However, the Unemployment Rate came in lower at 9.7%, down from last month's read of 10.0%. But what do these numbers actually tell us?
Remember that the numbers in the Jobs Report come from two separate surveys: First, the Business Survey - also called the Establishment Survey or Current Employment Statistics Survey - which surveys about 140,000 businesses and government agencies. It uses something called the "birth/death ratio" to provide an estimate of the number of jobs gained or lost each month. This survey is used to report the headline number of jobs gained or lost. Now there is also the Household Survey, also known as the Current Population Survey, which uses actual phone calls to 50 - 60,000 households to gather its data. This survey is used to report the headline Unemployment Rate.
The Business Survey is very susceptible to inaccuracy, particularly during times when the labor market is substantially worsening or improving...and you don't need to look much further than all the revisions to prior reports to see how inaccurate the report seems to be. December's report was revised to 150,000 jobs lost, nearly doubling the original report of 85,000 job losses. Although November showed 60,000 additional gains - wait a minute - October's revisions showed another 100,000 jobs lost. And if that weren't enough, the Business Survey threw in a "Benchmark Revision", which indicated that there were an additional 900,000 jobs lost from March 2008 - March 2009 from what was previously reported!
-----------------------
Chart: Non-farm Payroll Change and Revisions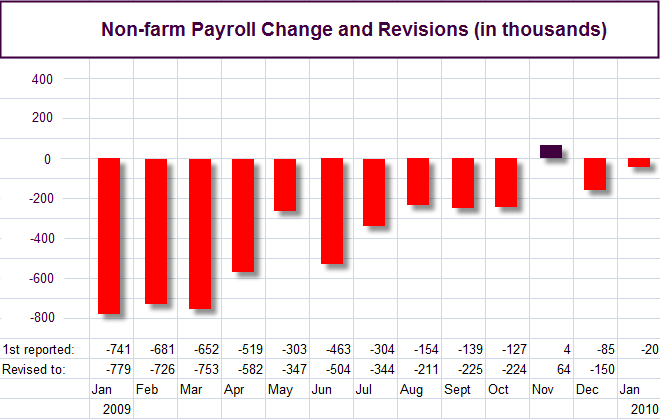 So what about the other report, the Household Survey? It gives us the headline Unemployment Rate, which was reported at 9.7%. That's an improvement over last month's reading of 10.0%. But this survey has its own job creation or loss number, just like the Business Survey does. The Household Survey showed that 540,000 jobs were created during January, which is really good news, and explains why the Unemployment Rate declined in the face of the Business Survey showing job losses.
There are definitely some glimmers of hope for the job market - but any way you look at it, the bottom line is that continued and significant improvements need to be seen in the labor market before the economy can be considered out of the woods.
Another important note for the week - Pending Home Sales for December were up significantly from November's reading, and up a healthy 10.9% over December 2008, as homebuyers take advantage of today's low rates and tax incentives. And speaking of low home loan rates, the Federal Reserve purchased $12 billion in Mortgage Backed Securities last week, bringing the total to $1.173 trillion since the program began in January of 2009...which leaves just $77 billion in purchases to be made over the next eight weeks until the program ends on March 31st. While home loan rates improved very slightly during this volatile week - don't forget that when the Fed is done buying, home loan rates will be very susceptible to moving higher. Please reach out to me to discuss how you or someone you know might benefit from current low rates, or the Homebuyers Tax Credit. The clock is ticking on both these fronts - so why wait?
THE NEW MILEAGE RATES ARE HERE! THE NEW MILEAGE RATES ARE HERE! OKAY...NEWS FROM THE IRS ISN'T NECESSARILY ALL THAT EXCITING, BUT YOU DON'T WANT TO MISS OUT ON A SINGLE TAX DEDUCTION YOU MIGHT HAVE COMING. CHECK OUT THIS WEEK'S MORTGAGE MARKET GUIDE VIEW FOR THE DETAILS.
Forecast for the Week

---
We have a quiet week ahead when it comes to economic reports, but whether that's good or bad news remains to be seen. Be sure to look for Thursday's Initial Jobless Claims Report, as last week's numbers came in at 480,000, quite a bit worse than the 455,000 expected and the highest count since mid-December. Last week's Continuing Claims increased slightly to 4.6 million, and remember this...the Continuing Claims number doesn't even account for the nearly 6 million people whose Unemployment benefits have expired, and are now receiving Extended Emergency Unemployment benefits.

Also on tap for Thursday is the Retail Sales Report for January. This report is the most-timely indicator of broad consumer spending patterns, and it is important to see in which direction the numbers are moving. And the Treasury will be auctioning $40B in 3-year Notes on Tuesday, $25B in 10-years on Wednesday and $16B in 30-year Bonds on Thursday for a total of $81B. These auctions could move the markets, especially in the face of few scheduled economic reports.

Remember: Weak economic news normally causes money to flow out of Stocks and into Bonds, helping Bonds and home loan rates improve, while strong economic news normally has the opposite result.

As you can see in the chart below, Bond prices have been improving of late, but there is tough technical resistance ahead. As always, I'll be watching closely - so give me a call this week if you'd like an update on the market action!

Chart: Fannie Mae 4.5% Mortgage Bond (Friday Feb 05, 2010)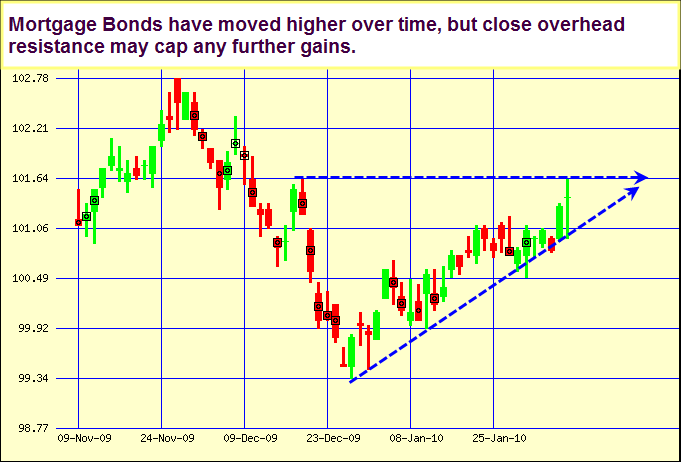 The Mortgage Market View...

---
New Mileage Rates for 2010
If you drive a car, truck or van for work, you'll want to make sure you know the standard mileage rates that the Internal Revenue Service (IRS) has set for 2010. And remember, these mileage rates are not just used to calculate deductible costs for driving an automobile for business, but also for charitable, medical or moving purposes.
New for 2010
As of January 1, 2010, the standard mileage rates are as follows:
Businesses = 50 cents per mile driven
Medical or moving = 16.5 cents per mile driven
Charitable organizations = 14 cents per mile driven
Note: The 2010 rates are slightly lower than last year's, due to generally lower transportation costs as compared to a year ago.
Make Sure You Qualify
Before you calculate your deduction, make sure you qualify. The IRS reminds taxpayers that they cannot use the business standard mileage rate for a vehicle after using any depreciation method under the Modified Accelerated Cost Recovery System (MACRS) or after claiming a Section 179 deduction for that vehicle. In addition, the business standard mileage rate cannot be used for any vehicle used for hire or for more than four vehicles used simultaneously.
Additional Option
Although the IRS provides the standard mileage rate for ease and convenience, you're not required to use it. If you prefer, you can calculate the actual costs of using your vehicle instead of using the standard mileage rates.
Best yet - most people find that they save money on taxes by working with a tax professional. Let me know if you need a referral!
The Week's Economic Indicator Calendar

---
Remember, as a general rule, weaker than expected economic data is good for rates, while positive data causes rates to rise.
Economic Calendar for the Week of February 08 - February 12
| | | | | | | | |
| --- | --- | --- | --- | --- | --- | --- | --- |
| Date | ET | Economic Report | For | Estimate | Actual | Prior | Impact |
| Wed. February 10 | 08:30 | Balance of Trade | Dec | -$35.5B | | -$36.4B | Moderate |
| Thu. February 11 | 08:30 | Jobless Claims (Initial) | 2/6 | 465K | | 480K | Moderate |
| Thu. February 11 | 08:30 | Retail Sales | Jan | 0.5% | | -0.3% | HIGH |
| Thu. February 11 | 08:30 | Retail Sales ex-auto | Jan | 0.5% | | -0.2% | HIGH |
| Fri. February 12 | 10:00 | Consumer Sentiment Index (UoM) | Feb | 75.0 | | 74.4 | Moderate |
It is important that you know that I always have time for you, your friends & family members & that you would like to refer my services.
The material contained in this newsletter is provided by a third party to real estate, financial services and other professionals only for their use and the use of their clients. The material provided is for informational and educational purposes only and should not be construed as investment and/or mortgage advice. Although the material is deemed to be accurate and reliable, we do not make any representations as to its accuracy or completeness and as a result, there is no guarantee it is not without errors.
As your trusted advisor, I am sending you the MMG WEEKLY because I am committed to keeping you updated on the economic events that impact interest rates and how they may affect you.
In the unlikely event that you no longer wish to receive these valuable market updates, please USE THIS LINK or email: ted@tedcanto.com
If you prefer to send your removal request by mail the address is:
Ted Canto
5304 E. Southern Ave.
Suite 101
Mesa, AZ 85206

Mortgage Success Source, LLC is the copyright owner or licensee of the content and/or information in this email, unless otherwise indicated. Mortgage Success Source, LLC does not grant to you a license to any content, features or materials in this email. You may not distribute, download, or save a copy of any of the content or screens except as otherwise provided in our Terms and Conditions of Membership, for any purpose.