Provided to you Exclusively by THE CANTO TEAM

For the week of Jan 04, 2010 | Vol. 8, Issue 1
Ted Canto
Senior Mortgage Consultant
Academy Mortgage
Office: 480-344-3671
Cell: 480-650-8602
Fax: 480-374-6958
E-Mail: ted@tedcanto.com
Website: www.tedcanto.com

Going the extra mile is my standard, not the exception
Last Week in Review

---
"We will open the book. Its pages are blank. We are going to put words on them ourselves. The book is called Opportunity and its first chapter is New Year's Day." Edith Lovejoy Pierce. And as we begin a New Year, fresh with opportunity - here's what you need to know about the last week of 2009.
The holiday shortened week had some fireworks, and not just those ringing in the New Year. The Treasury Department auctioned a whopping $118 Billion in T-Notes last week, and the added supply helped bring on some volatility in Bonds. And although the financial markets in general have been quite volatile of late anyways, the potential for increased volatility is typically greater during a holiday week. This is because trading volume levels decrease, and with fewer traders and investors pushing transactions, it opens the door for exacerbated market moves, as one large trade can cause prices to rise or fall more sharply.
In fact, volatility was present through a good part of 2009 - not to mention the last decade. As you can see in the chart below, Stocks experienced a roller coaster ride during 2009, hitting Bear market lows in March...only to soar 60% higher since March 9th.
-----------------------
Chart: Dow Jones Industrial Average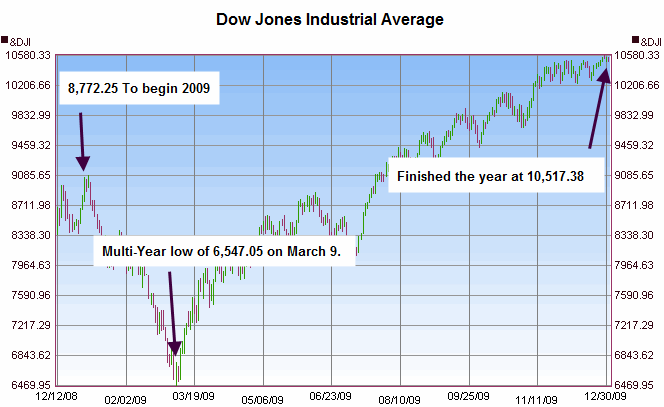 Meanwhile, 2009 also brought some of the best home loan rates ever seen in the history of the US, but things have worsened over the last month. This is in part because the Federal Reserve is winding down their Mortgage Backed Security purchasing program...right at a time when there is an increased volume of Mortgage Backed Securities coming to market.
So why are there more coming to market right now? It takes about four months for home loan originations to become securities - and summer originations were light, allowing the decreased Fed purchases during the fall to still help handle the flow of Mortgage Backed Securities coming to market at that time. But loan origination volume increased in late summer and early fall, due to lower home loan rates as well as the perceived expiration of the Home Buyer Tax Credit, which has since been extended. This increased volume of home loans are now securitized and hitting the markets, at a time when the Fed is buying less.
As with any item, when there is lots of supply - in this case, the increased volume of Mortgage Backed Securities - and diminishing demand - i.e. the Fed buying less and less - Economics 101 tells us that the price of that item will subsequently go down. And as Mortgage Backed Security or Mortgage Bond prices go down, home loan rates go up, which is what we saw happen throughout December. While rates were able to end last week at about the same place as they began the week, they did worsen about .50% from the beginning of December to the end.
THE NEW YEAR IS THE PERFECT TIME FOR A FINANCIAL CHECK-UP, SO MAKE SURE TO GET IN TOUCH WITH ME TO SEE IF STILL LOW HOME LOAN RATES COULD BENEFIT YOU OR SOMEONE YOU KNOW. AND SPEAKING OF SMART FINANCIAL DECISIONS, CHECK OUT THIS WEEK'S MORTGAGE MARKET VIEW FOR GREAT TIPS ON SAVING MONEY DURING THE COMING YEAR.
Forecast for the Week

---
The first major economic report of the New Year will come on Friday, with the Labor Department's official Jobs Report for December. Last month's Jobs Report showed that only 11,000 jobs were lost in November, despite expectations of 125,000 jobs lost. This marked the least number of jobs lost in nearly two years, since December 2007. In addition, the Unemployment Rate improved to 10.0%, when expectations were for it to remain at the 10.2% level.
Remember, though, that we need to create an additional 125,000 jobs each month just to keep up with population growth...so there is still quite a ways to go before we're out of the woods on the employment front. And while last week's Initial Jobless Claims number showed that new Unemployment Claims were reported at the lowest weekly reading since July of 2008, the holidays and large snowfall in many parts of the country may have prevented people from getting out to the unemployment office to file their claims...so this may well have skewed the reading. The bottom line is that the labor market is a key component to our economy's recovery, so both Thursday's Initial Jobless Claims number and Friday's Jobs Report will be important to watch.
Weak economic news normally causes money to flow out of Stocks and into Bonds, helping Bonds and home loan rates improve, while strong economic news normally has the opposite result. As you can see in the chart below, Bond prices have been on a worsening trend of late, meaning home loan rates have moved higher. As the New Year begins, remember you can count on me to be watching closely as always - and I look forward to hearing from you or any of your friends, family members, neighbors or coworkers with any questions you might have.
Chart: Fannie Mae 4.5% Mortgage Bond (Friday Jan 01, 2010)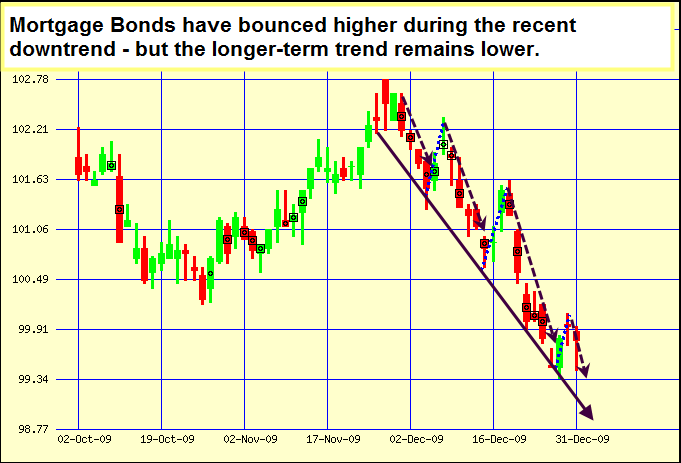 The Mortgage Market View...

---
"Resolve" to Stop Wasting Money
The New Year is the perfect time to take a look at your spending habits and "resolve" to avoid wasting money where you don't have to. Here are some main areas that many of us waste money unnecessarily...and some simple steps to ensure a bright financial 2010.
Meals at the Workplace
Working Americans spend an average of $6 when they buy their lunch at work. The average cost drops to $2 when we bring our lunch from home. That's a difference of $4 a day, or $20 a week, or over $1,000 a year. Consider adding this savings to your savings account, and after just a few months you'll really see the difference add up.
Utilize the Public Library
By obtaining a library card, you can save on books, magazines, and especially DVD rentals. If you average 3 DVD rentals a month, you're spending approximately $144 a year. That's $144 that could be deposited into your bank account. For every book you check out, find out what it would have cost if you'd bought it. Deposit that amount into your account, too.
Don't be Afraid to Ask for Discounts
If you're paying bills or buying items such as airline tickets based solely on the price you're quoted, you could be wasting money. Many companies provide discounts on goods and services but only for those customers who request them. It never hurts to ask so start asking.
Save Gas
Consult the owner's manual of your car and learn about the manufacturer's recommendations for optimal gas mileage. Put the suggestions into action and see what happens. After a month, you should be able to see if you're spending less on fuel. Take the savings and stash it away.
Sell Your Junk
Come Springtime, go through your closets, garage, and CD collection. Figure out which items you no longer use. You can either hold a garage sale or locate stores which buy and sell used merchandise, and sell the items to them.
Do Away with Disposable
From razors and batteries to paper towels and plastic bags, your home is filled with products which are meant to be thrown away. Most of these disposable items have either a permanent or semi-disposable counterpart. Switching over to these more durable items can yield a savings of $4 a week or $200 a year.
Get the Most Out of Your Utilities
Many of us are overspending on our utility bills for no other reason than our own apathy. If you haven't already switched over to low-flow shower heads and toilets it's probably time to do so. Also, get into the habit of turning off lights when not in use. Did you know that most utility companies offer a free online energy audit? This way you can see exactly where you're wasting money.
Here's to a bright financial future in 2010!
The Week's Economic Indicator Calendar

---
Remember, as a general rule, weaker than expected economic data is good for rates, while positive data causes rates to rise.
Economic Calendar for the Week of January 04 - January 08
| | | | | | | | |
| --- | --- | --- | --- | --- | --- | --- | --- |
| Date | ET | Economic Report | For | Estimate | Actual | Prior | Impact |
| Mon. January 04 | 10:00 | ISM Index | Dec | 54.0 | | 53.6 | HIGH |
| Tue. January 05 | 10:00 | Pending Home Sales | Dec | -3.0% | | 3.7% | Moderate |
| Wed. January 06 | 10:00 | ISM Services Index | Dec | 50.5 | | 48.7 | Moderate |
| Wed. January 06 | 10:30 | Crude Inventories | 12/31 | NA | | -1.54M | Moderate |
| Thu. January 07 | 08:30 | Jobless Claims (Initial) | 1/02 | 445K | | 432K | Moderate |
| Fri. January 08 | 08:30 | Average Work Week | Dec | 33.2 | | 33.1 | HIGH |
| Fri. January 08 | 08:30 | Hourly Earnings | Dec | 0.2% | | 0.1% | HIGH |
| Fri. January 08 | 08:30 | Non-farm Payrolls | Dec | Zero | | -11K | HIGH |
| Fri. January 08 | 08:30 | Unemployment Rate | Dec | 10.1% | | 10.0% | HIGH |
It is important that you know that I always have time for you, your friends & family members & that you would like to refer my services.
The material contained in this newsletter is provided by a third party to real estate, financial services and other professionals only for their use and the use of their clients. The material provided is for informational and educational purposes only and should not be construed as investment and/or mortgage advice. Although the material is deemed to be accurate and reliable, we do not make any representations as to its accuracy or completeness and as a result, there is no guarantee it is not without errors.
As your trusted advisor, I am sending you the MMG WEEKLY because I am committed to keeping you updated on the economic events that impact interest rates and how they may affect you.
In the unlikely event that you no longer wish to receive these valuable market updates, please USE THIS LINK or email: ted@tedcanto.com
If you prefer to send your removal request by mail the address is:
Ted Canto
5304 E. Southern Ave.
Suite 101
Mesa, AZ 85206
Mortgage Success Source, LLC is the copyright owner or licensee of the content and/or information in this email, unless otherwise indicated. Mortgage Success Source, LLC does not grant to you a license to any content, features or materials in this email. You may not distribute, download, or save a copy of any of the content or screens except as otherwise provided in our Terms and Conditions of Membership, for any purpose.